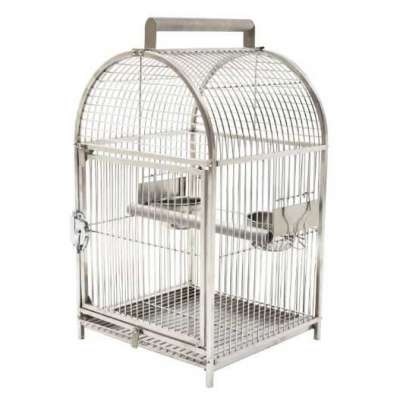 Pawhut 25″ Dome Top Stainless Steel Travel Bird Cage
https://adamsparrotsfarm.com/p....roduct/pawhut-25-dom


GREAT FOR ALL TRAVEL: This portable bird cage is ideal far long-term use, emergency situations, and travelling. Its lightweight design makes it easy to transport while keeping your feathered friend safe and comfortable.
HIGH-QUALITY CONSTRUCTION: Constructed of heavy-duty stainless steel, this bird travel carrier is tough enough to withstand biting and pecking while at the same time being resistant to rust and bacterial buildup.
READY TO GO KIT: It features a bottom tray for easy cleaning, 2 large food bowls, and a perch, all built from the same heavy duty stainless steel material.
HANDLE FOR EASY TRANSPORT: With a handle on top for easy transport that doubles as a perch you'll always be able to bring your fine feathered friend with you wherever you go while giving them the opportunity to stretch their wings
QUICK AND EASY CLEANUP: The bottom tray makes cleaning simple and the slide-out tray allows the top perch to be used as a playground.
Please log in to like, dislike, share and comment!