Stainless Fermentation Tank
China Industrial Fermentation Tank Supplier Offers Big Fermentation Tank, 304 Stainless Steel Bioreactor, GB150, 4200mm X 16260mm, 173 m3, 0.33 MPa.
Name: Fermentation Tank.
Material: SS304.
Manufacture Code: GB150.
Specification: ID 4200mm X 16260mm.
Design Pressure: 0.33 MPa.
Design Temperature: 150 ℃.
website: https://www.dfctank.com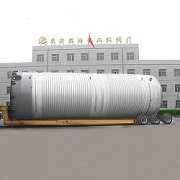 Please log in to like, dislike, share and comment!