Fixed Roof Storage Tank
China Fixed Roof Storage Tank Producer Provides Above Ground Fixed Roof Storage Tank, Welded, API 650, 400m3, Design Temp 4℃ - 80℃, Up to 20,000 PaG.
Name: Large Storage Tank.
Material: Q235-B.
Standard: API 650, GB 50341.
Welding Code: JB/T4709.
Welding Structure: Full Penetration Weld Except Noted.
Fluid Performance: Flammable.
Working Temperature(In/Out): 4℃ to 50℃.
Design Temperature: 4℃ to 80℃.
Working Pressure: ATM (Standard Atmosphere).
Design Pressure: -490 PaG to 20,000 PaG.
website: https://www.dfctank.com/fixed-....roof-storage-tank-we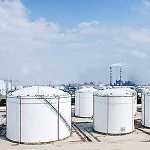 Please log in to like, dislike, share and comment!